Workshops at Yewfield
Yoga Retreats at Yewfield
Margaret Armstrong - a yoga practitioner for 35 years and teacher for over 25 - has long been hosting private yoga retreats at Yewfield. We are now opening up the opportunity to join Margaret, and the excellent Yewfield team, for yoga days and retreats.
Sunday 9th to Wednesday 12th September 2018 ( 3 nights)

Tone or tension …..

Is your body a sleek, flexible, relaxed, well oiled and toned machine …..?

Over the retreat days we will look at tension in the body, breath and mind. We will explore how our yoga is the perfect tool to help identify, remove and keep at bay the damaging nature of tension - oh, yes, and to help get that healthy, balanced, beautiful body!
Friday 22nd February to Sunday 24th February 2019

During this weekend retreat we will enjoy varied and balanced yoga practice - but with an emphasis of enquiry into the breath.
The cornerstone of our yoga, our constant companion, our 'anchor', our guide, our vital life source - our breath!
Retreats are "full board" - buffet style breakfast, light lunch and candlelit dinner.
Cost for the 2 night retreat is £290.00 per person, based on two sharing a twin / double standard en-suite room or £315.00 per person in a "superior" room.
Single room supplement is £40.00
Cost for the 3 night retreat is £380.00 per person, based on two sharing a twin / double standard en-suite room or £395.00 per person in a "superior" room.
Single room supplement is £60.00
Full details and a registration form, will be sent to you once you have booked your place on the retreat. Please note that this retreat in not suitable for complete beginners.

If you have any yoga concerns / questions, please contact Margaret on 01229 885 643

To book a place phone Yewfield 015394 36765
---
Breakfast and catering for groups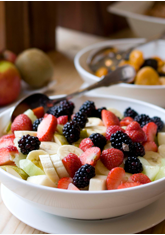 Breakfast buffet with fresh fruits, cereals, smoothie and home baked bread.
Dinner in the dinning area. Sample menu: olives with home baked bread, salads from our garden, with an Italian influence of fresh garden herbs on pasta with zucchini, aubergine and slow roasted tomatoes. Damson and pear crumble with ginger Greek yogurt. Served with coffee.
Twin and double rooms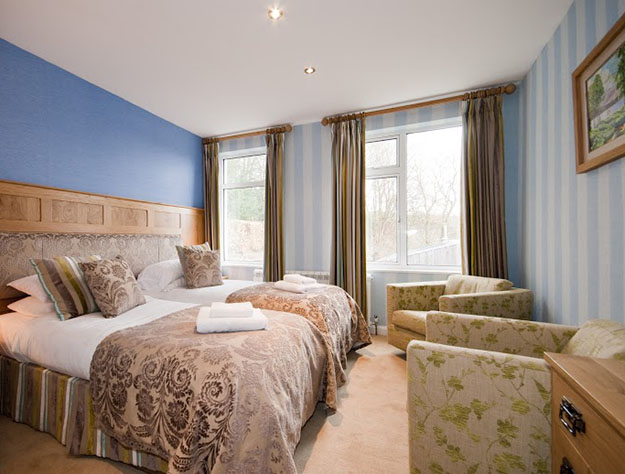 We have several rooms that can be twin bedded.