As we welcome in 2019 what better way to bring in the New Year than by planting trees. Just compare this month's banner to last months' to see the difference. In the last post we showed you a 'forest in a box'. We started planting the 2700 trees with their shelters on Mon Dec 10th and finished last Tuesday Jan 15th. We were grateful for help from volunteers but mostly the planting was done by local foresters Bren and Will. The weather was largely dry and mild so that made the job more pleasant than we expected. John and Steven, who were contracted to fell and remove the diseased larch, finished by Christmas and did a cracking job. They were sensitive to the site and soil leaving non larch trees standing wherever they could. Stacks of logs of different lengths wait for the timber lorry at our stacking bay on the path to Tarn Hows. They should be gone soon and just in time as the whizz bang harvester employed by the National Trust, our neighbour on the Tarn Hows side of the forest track, has arrived and is removing the diseased larch on their side. The harvester is a monster of a machine worth several hundred thousand pounds that fells a tree, cuts it to length and limbs it all at once. It is difficult to imagine that nowadays John and Steven can compete with such a thing but I am glad to have had them and given the choice would hire them over the monster any day. Call me an old fashioned forester and in spite of the technological revolution today in forestry long may we old fogeys survive and find work. I will be interested to see what that heavy machine will do to the soil on those steep slopes going up to Tarn Hows. Who knows, if the weather remains dry they may get away with it.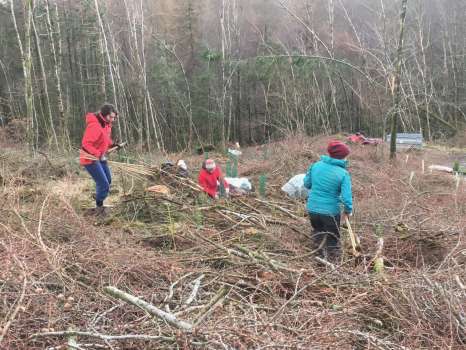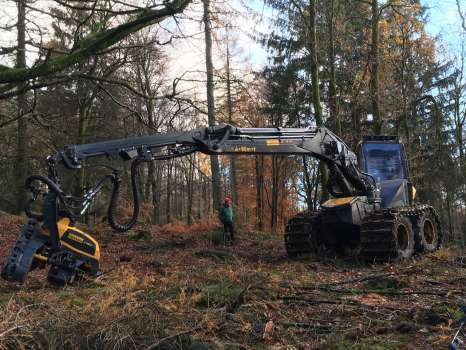 Speaking of the weather, what a mild winter we have had so far. The ponies have been staying up in the pastures content to eat grass that was still growing and plentiful rather than come down to the barns for our yummy hay. We have had only two frosts up til now and snowdrops and daffodils are jumping the gun already. Cool your jets, I tell them, and remember the 'beast from the east' of last March.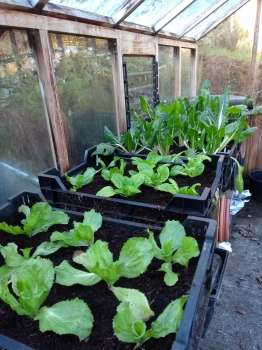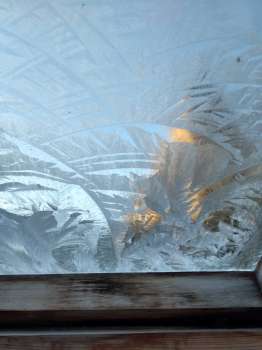 January 1st was the beginning of our Countryside Stewardship Higher Tier contract. It will last for five years and if we have a hard Brexit at the end of March we shall be thankful we got our contract approved in time as it is uncertain as to what conservation grants will be offered after we leave the EU. The grant schemes are fiendishly difficult to complete and it is no wonder that most landowners hire agents to do the applications. As it is public money i do understand why we must be accountable for how the money is spent and that it should be effective in improving conservation on the farm. Still there must be a simpler way to support landowners who want to help wildlife on their farm.
Our plan this year is to plant a native hedge attractive to birds and butterflies from just below the barn over to the tarn. We have bird boxes to erect and a few enclosures in the forest to discern how much deer damage we have. Although we shall be replanting another 4000 trees in the diseased larch areas, there is still a lot of open ground remaining for natural regeneration. We don't want the young trees to be munched by deer. Much of the conservation management of the hay meadows and pastures we already do. I am having a bracken basher welded up so we can keep on top of bracken in the pastures. So all in all, we are looking forward to 2019 in spite of the political uncertainty that lurks at the edges of our working lives.
Go back to all blog posts or read the next entry in our blog here →
You can also read the previous blog post here.