Thunder is echoing softly through the distant hills. We hope those thunderclouds head this way. Although we have had some rain since our last post it hasn't been near enough. Leaf growth is coming up to its maximum for many plants now before flower and seed follow on, so let us have more growth please and for that we need rain.
It is the pink and purple moment on the patio for those flowers that have emerged. Thalictrums, red campion (more of a vivid pink than red), pink valerian, Alliums, Cirsiums, Lysimachia 'Firecracker' and the first old fashioned roses are all blending together into a pleasing pastel palette of colour with the eye distracted by the odd patch of yellow marjoram or day lily. We had tea this morning on a bench in the patio looking out at it all and felt blessed to have such a pleasing space to admire and work in during these strange claustrophobic times.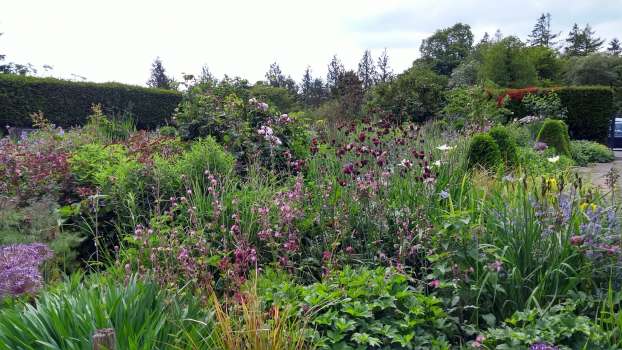 Elsewhere in the garden, so much is happening. Wild roses are in full bloom and buzzing with bees, our new pond is alive with great diving beetles, a sign that a thriving ecosystem has established, but our plant of the month amongst such a bevy of beauty has to be the white clematis cascading down the steps in front of the house. Clematis montana wilsonii has an exquisite vanilla scent that in passing on a warm still spring evening makes me stop, close my eyes and imagine I am in the tropics.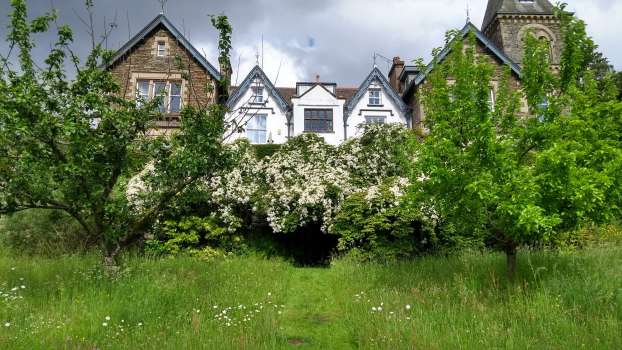 On the land, the plant of the month is the exquisite Northern Marsh Orchid - Dactylorriza purpurella. It has such a rich purple and is easily picked out among the wildflowers emerging now in the hay meadows. I've never seen so many as this year.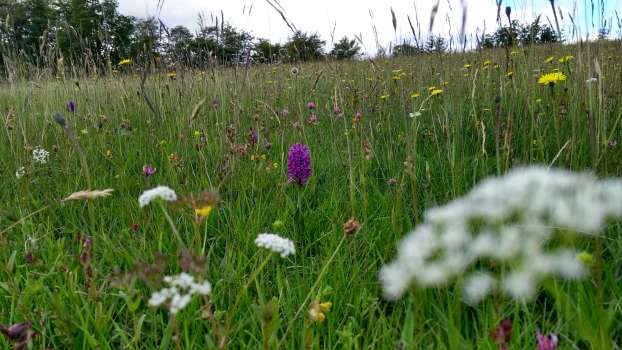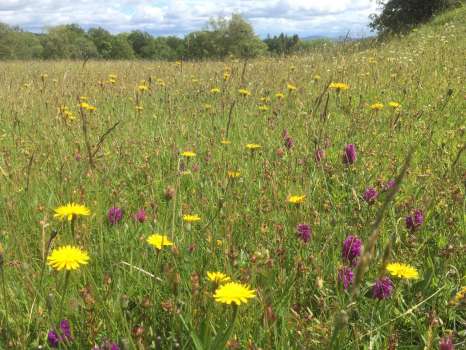 One of the great joys of the lockdown or as it appeared last weekend in the Lake District, the breakdown of the lockdown, has been the BBBC's Springwatch. I am guessing that anyone reading this will be a Springwatch fan like ourselves so no introduction is needed. Chris Packham, (in my books - a national treasure) brought in the subject of rewilding several times - rewilding in the garden and in the wider landscape. In the last programme of the series their sound recordist Gary Moore recorded nightingales and turtle doves that had been absent at the Knepp estate in Sussex for decades but have now come back. It was fascinating to see the wood pasture landscape they have created at Knepp with patches of bramble and thorn interspersed by copses of trees linked by pasture. Although we don't get nightingales and doves up here in the Lake District we do get other great vocalists such as chiff chaff, blackcap, willow warbler, garden warbler, dunnock, and wren - all shrub and scrub nesters requiring similar bushy habitat. We also encourage bramble and hawthorn on our pastures as we attempt to emulate the medieval wood pasture habitat, and it is heartening to see in our felled forest patches of bramble establishing. All great habitat for our songbirds.
Bramble is also a brilliant plant for pollinators. We sent a sample of our honey to a PhD researcher in Wales two years ago who was analysing honey samples to see what pollen bees were gathering. By far the biggest component of our honey was bramble and wild raspberry. Another storyline on Springwatch was a citizen science project set up by the Open University. The idea is to encourage pollinators by letting some of our lawns grow long. We think of wildflowers being good for pollinators but long grass is also important for biodiversity, especially for moth larvae. But it is the mosaic of grassland habitat that is best for wildlife - some uncut lawn for pollinators and moths, and some mown grass for foraging birds like corvids, blackbirds and thrushes. We mow paths through our long grass in front of the house linking them up as walkways to and through the gardens. Soon we will be making hay from the long grass which over time reduces the fertility of the lawn allowing more flowering species to establish and compete with the grasses. The hay is fed to our ecological engineers, the ponies, that help to maintain the wood pasture habitat we have here on the land at Yewfield.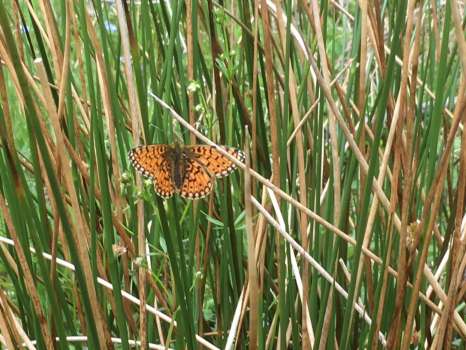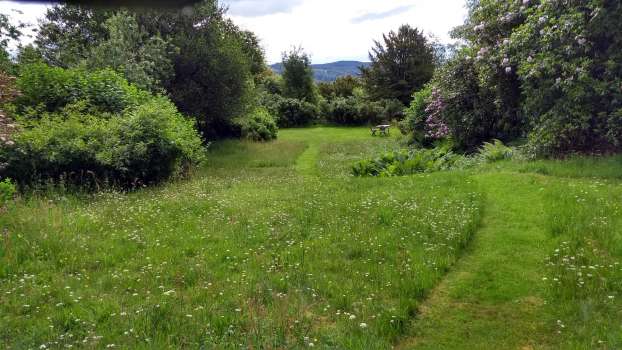 Over the last month Will and I have been building a firewood shelter from poles and planks from the forest. Now we just need to fill it up.
The heavens have opened as plants and gardeners breathe a sigh of relief.
Go back to all blog posts or read the next entry in our blog here →
You can also read the previous blog post here.