Once upon a time we sang in a madrigal group and at Christmas carol time one of our favourites was the 19th-century English folksong 'Green Grow the Rushes O'. Although the song has nothing to do with rushes it has a catchy melody and we sang it as we were gathering rushes last week. Our Countryside Stewardship Higher Tier agreement dictates that in one of our hay fields we must cut the rushes every year. We waited until the ground was dry enough in September and used a combination of a flail mower on the drier parts and scythes in the wetter bits. Ambleside continues to host a rush bearing parade at the beginning of August which is a colourful attraction for locals and tourists.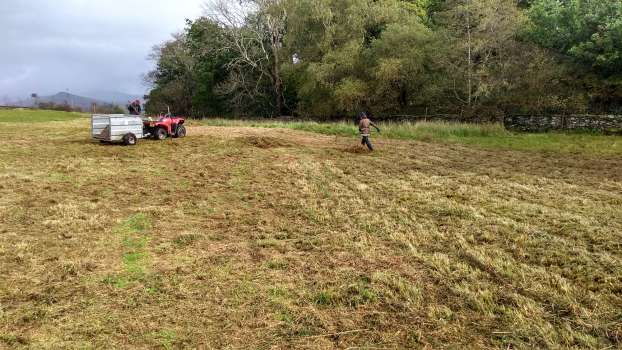 Most of our rush habitat is composed of soft rush and sharp-flowered rush, with some richer areas of various sedges, angelica, greater birdsfoot trefoil, valerian, marsh bedstraw and marsh thistle. Soft rush is a bit of a thug in wet flushes in the Lakes and climate change with our wetter, milder climate is fostering its spread. So we are hoping that cutting and collecting soft rush will allow these other species to spread in. This is the second year we have been doing this and this summer we noticed far more angelica, greater birdsfoot trefoil and marsh bedstraw moving in - excellent late summer plants for pollinators. Rushes are the first plant to emerge in late winter and their tender shoots are sought out by our ponies.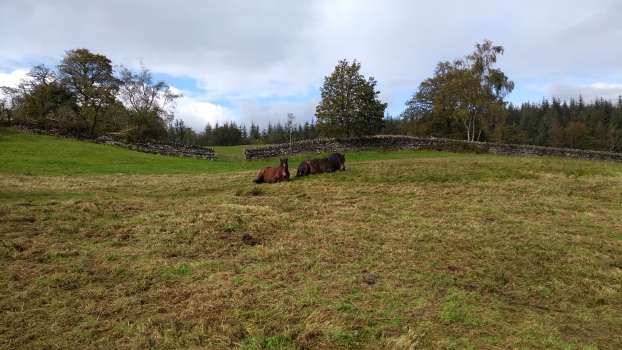 Ash dieback is much more noticeable in our area this summer. The dry sunny spring we enjoyed during lockdown is reported to have further weakened the species as it is a moisture lover. A recent study in France says that high density ash woods such as we have in the south of the Lake District are most at risk. Mixed woodlands with a low density of ash seems to survive it better and specimen trees in hedgerows even better. Pollarded ash is an important tree in the Lakeland dales. The hope is that many will be able to cope but only time will tell.
Autumn leaves are starting to turn. The dry September and lack of strong winds has given us a colourful week with the highlights being the Katsura tree, Cercidophyllum japonicum our plant of the month. The climbing hydrangea Hydrangea petiolaris is colouring well and so is the ornamental grape festooned over a yew tree Vitus coignetii.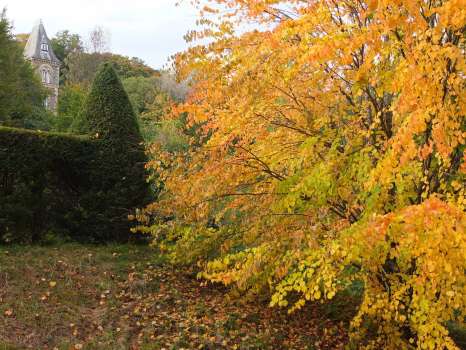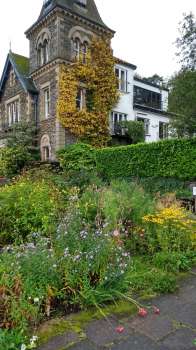 Go back to all blog posts or read the next entry in our blog here →
You can also read the previous blog post here.