It has rained heavily over the last two days and nights. It is the first substantial rain for months. From an average daytime temperature of 15C to 20C over much of September, the warmest September for years, the temperature has dropped to between 10C and 13C today. It feels like summer is truly over and autumn has decided to arrive with a vengeance. Skeins of geese have been heading south last week chatting away to each other as they pass over. What are they saying? 'Hey, it's my turn in front; no it's my turn, the last time you were in front we went too far east' or 'Hey let's have a break, I'm hungry'. Yewfield seems to be on a major geese flyway and it is something I look forward to at this time of year. It truly marks the turning of the season.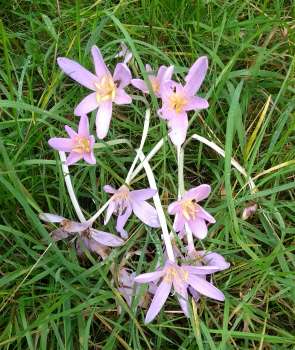 We have been busy with autumn jobs like apple juicing and putting away firewood for the winter. It has been a bumper apple crop this year. So far we have been juicing the varieties 'Greensleeves' and 'Keswick Codlin'. The juice is in another league from what one normally finds in supermarkets. There is an earthy wholesomeness to the flavour and a pleasant balance between acidity and sweetness. It is an ambrosial nectar firmly locating us into this place and this season.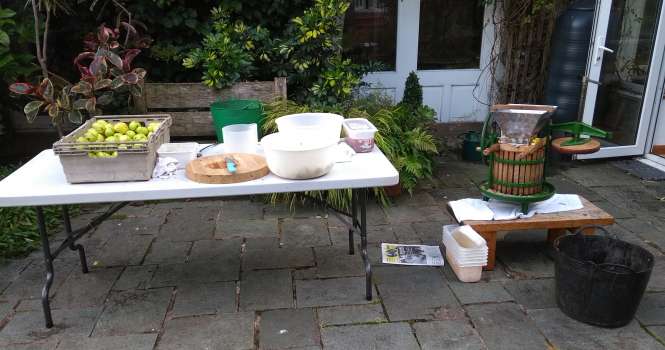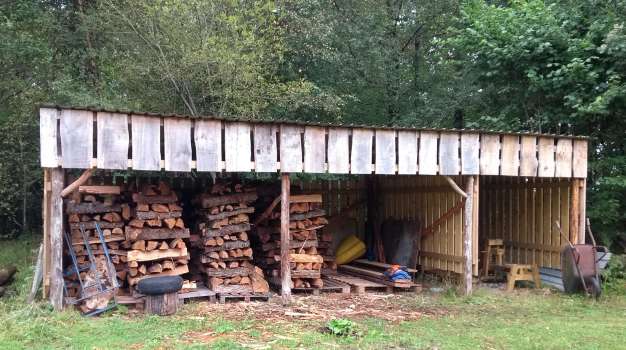 September can be a floriferous month in spite of the cooler weather. Colourful drifts of aster, rudbeckia, helianthus, eupatorium and dahlia mix and jostle with clumps of ornamental grasses in the patio and cutting beds. As we continue to think of ways to simplify our work in the gardens, as we geriatrics limp into the future, planting prairie perennials with grasses seems to fit with the ethos of the place, and once established they pretty much look after themselves. A cut back in late autumn, a good weed and a mulch of compost is all they need to perform year after year. With neatly cut hedges surrounding their casual informality it is a pleasing sight on the patio.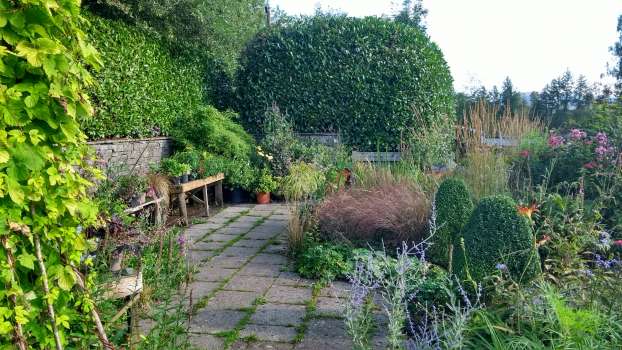 It is also the time of year to order trees. We have planted 7,000 trees at Yewfield over the last three years as we have had to restock the areas of larch that were affected by disease. Not all of our plantings survived - about 5% have failed - so of the 500 ordered for planting this winter we will replace those that haven't made it and also stock up a newly felled parcel that had larch disease last winter. Some of the trees will be given to us by the Woodland Trust and the rest we buy from Cheviot Trees in Berwickshire. Most are native tree and shrub varieties such as common alder, native cherry, Scots pine and hazel but with tree diseases continuing to come in to the UK affecting our native trees and with the uncertainty surrounding climate change we are planting a few tree species from other countries as well so that our woodlands will have the diversity to meet whatever comes our way. This winter we will plant some Italian alder, Japanese cedar and Norway spruce - all species that should thrive in our warming climate as we look forward 30 to 50 years.
Go back to all blog posts or read the next entry in our blog here →
You can also read the previous blog post here.