Until a few days ago we started to wonder what was happening to the dawn chorus. So far it has been quieter and less robust than normal but my hope is that with the cold dry April we just had everything is a fortnight late. There were the usual vocalists - blackbirds, robins, dunnocks, thrushes - but not many migrant voices giving the dawn chorus depth. We have heard the odd chiff chaff, willow warbler and black cap but not in any numbers. We yearn to see swallows and have seen a few but jthey are passing thru and not settling. Today a couple of swifts arrived. We welcomed them with whoops and hollers and hope they decide to settle and nest in the house. Springwatch will be on BBC next week so we'll see what the national experience of bird arrivals and the dawn chorus is this year.
It was the coldest and driest April on record. We had no rain since mid March and recieved our first rain on May 3rd. It looks like it will have to be May showers that will bring May flowers. Our seven large rain butts were almost empty as we had a greenhouse full to over flowing with plants and seedlings and lots of lovely plants ready for sale on the plant tables in the patio garden. The tulips and fresh green foliage and flowers of emerging perennials will welcome our first B and B guests this Monday.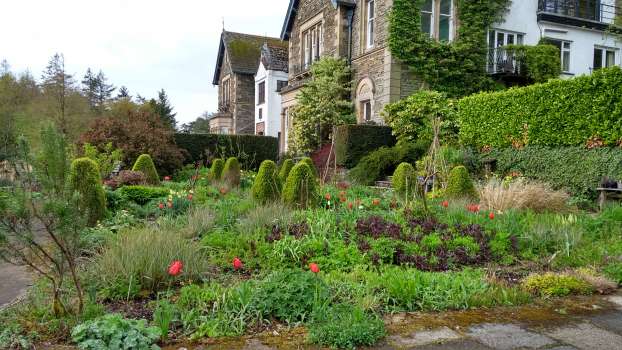 One of our gardens that has been getting attention last week was the Hillside Garden. It is on a steep slope behind the house and yoga studio. The original idea when it was created ten years ago was to plant it in the Permaculture style with fruit trees and bushes, vegetables and perennials. It is surrounded by a native berrying hedge of hawthorn, blackthorn, hazel, guelder rose and wild rose. We used to have five ten metre long beds for vegetables but as we are getting to the age when we've got to face the music and cut down on the more labour intensive areas of the garden, we have decided to grow less veg and put more of the garden into low maintenance perennials for bees and butterflies. We are still keeping two beds for veg in the Hillside Garden and just below in the Middle Garden we have two more beds for veg. We also have a 10 metre by 3 metre polytunnel. We won't starve.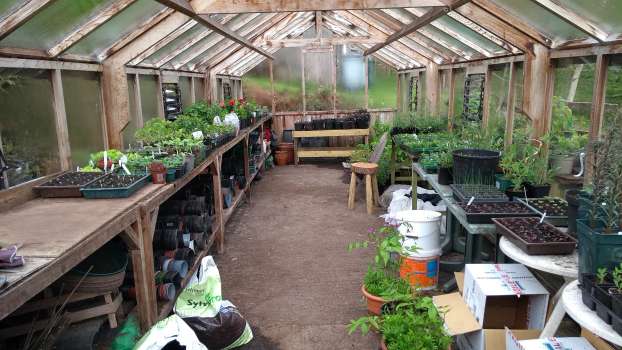 The last of our diseased larch has been felled and stacked ready to be picked up. The six acre enclosure where it came from is a mix of conifer and native deciduous trees and is mostly deer fenced. Our plan is to patch up the deer fence and replant with native species but also leaving areas for natural regeneration. We planked some larch logs with our chain saw milling attachment and made a footbridge over the stream for guests walking through our land.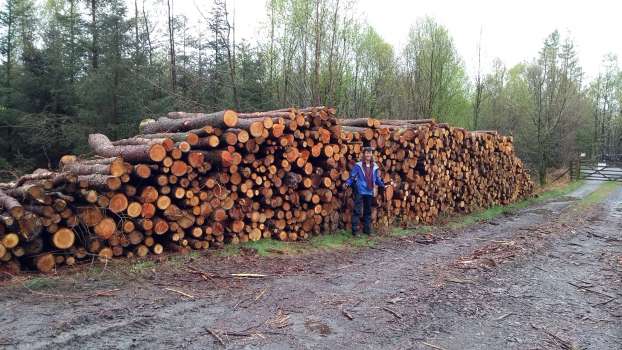 The late cool spring has given us many delightful surprises on the floral front. Daffodils and tulips have flowered for weeks longer than normal but the plant of the month at Yewfield is our 'Tai Haku' cherry. The pure white blossom and heady scent is a sensual experience to behold. It is the favourite tree in Japan for their hanami or blossoming cherry festivals where people gather for picnics under avenues of 'Tai Haku'.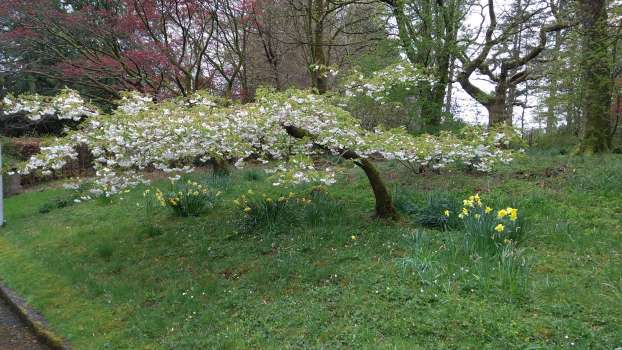 Go back to all blog posts or read the next entry in our blog here →
You can also read the previous blog post here.