The harvest moon rises over Claife Heights. After a lovely late summer day pruning hedges it is fun to see order returning once again to the garden. I love to see the evolution of the garden's structure through the year.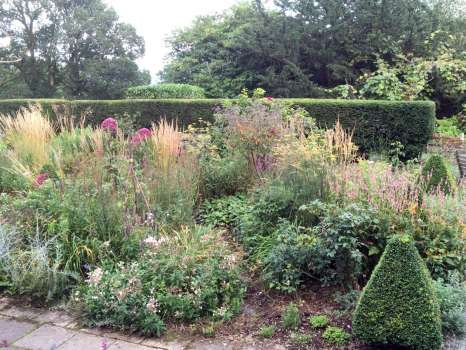 What a difference a month makes. Rain has arrived this week with a vengeance so fingers crossed no hosepipe ban will be needed although saying that Thirlmere doesn't appear to be filling up yet.
The honey was harvested from two hives but this year we are taking off less as we lost three hives last year. One was low on stores which makes me feel terrible as I feel responsible, but the other two hives had plenty of food yet for some reason had lost the will to live. I suspect they were in a part of the hive huddled together semi-comatose during the weeks when we had the 'beast from the east' last March and couldn't get to their stores.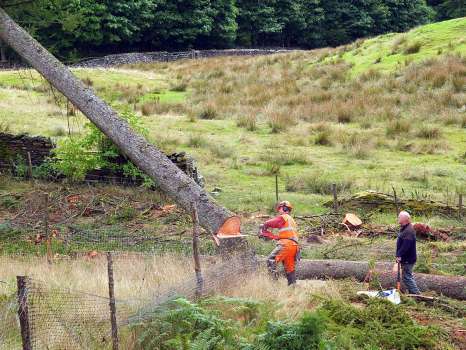 The forest contractors are out in all weathers doing a good job clearing the diseased larch. It has to be done by the end of September. We have been ring-barking trees within our planted enclosures which breaks our hearts as it feels as if we are bleeding them slowly to death. We hoped the young larch compartment to the north of the tarn that was thinned a couple of years ago would be spared but alas we heard last week from the Forestry Commission that there is disease in there too so they will have to go. My gosh what a lot of planting we will have to do this winter. We are cutting the small larch to help the contractors and stripping the bark and pointing them as posts for future enclosures. Today Will and I went out to mark larch trees where there are squirrel dreys and a sparrowhawk's nest. We will ring-bark those trees so they won't be cut down. They will stand for many years as standing dead wood and be valuable wildlife habitat.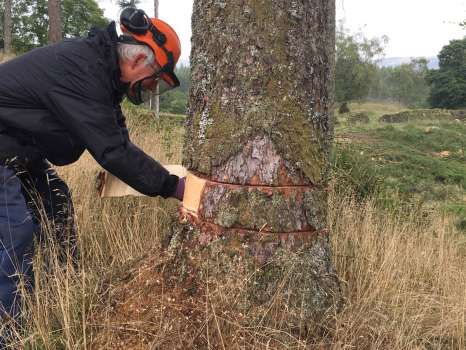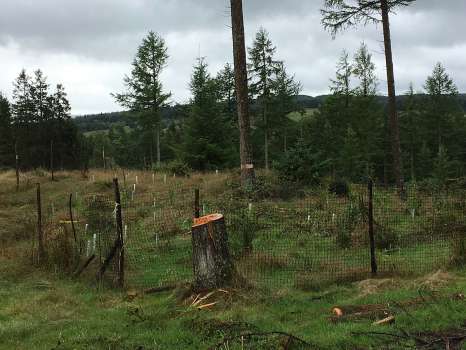 I have been reading Isabella Tree's book 'Wilding'. It is a remarkable journey of how she and her husband turned their 3,000 acre estate in Sussex into a wildlife reserve. The idea is inspired by work done in Holland by Franz Vera based on introducing a variety of rare breed grazing animals such as pigs, cattle, horses and deer. The animals have created in their different ways a complex wood pasture landscape attracting a wide range of rare species such as nightingale, Purple Emperor butterflies and turtle doves. The farm is now profitable after many years of struggling to make ends meet as a traditional mixed farm. They have safari tours, sell rare breed meat and rent out some of the estate buildings for offices. She wrote an article in the Guardian last weekend questioning the environmental footprint of going vegan. It was provocative for committed vegetarians who also want to support nature in Britain's farmed landscape. What we are doing on Yewfield's land is another attempt to improve habitat and species diversity but from a vegetarian perspective, assisted by ponies, bees and deer. Although we don't want deer in the garden, they are influencing the land's evolution to wood pasture which is a valuable habitat for us.
Go back to all blog posts or read the next entry in our blog here →
You can also read the previous blog post here.