From April to November we are a host farm for volunteers from an organization called WWOOF -World Wide Opportunities on Organic Farms (www.wwoof.org.uk). Volunteers help out on the grounds for approximately half a days work in return for their board and lodging. Part of the ethos of WWOOF is that the host also mentors the volunteer in the skills and techniques of organic growing and land management so that when they go home they can adapt what they have learned to their own place.
This summer we have had two 'wwoofers' from New Zealand by the name of Steve and Lynne. July and August are very busy months, probably our busiest of the year. The guest house is mostly full so the ornamental gardens and plant sale table must be up to scratch. The veg gardens have to be kept productive and monitored regularly for our arch enemies - slugs and snails - who have enjoyed this damp summer and compost heaps built and turned. Compost is the engine of an organic garden so due attention must be given to it. Steve was our compost supremo this summer and we and the garden's soil biotic community will be thanking him when we return the compost back to the garden over the coming year. These months are also when hedges are needing to be trimmed, honey extracted, hay cut, tedded and baled and firewood split, dried and stacked for our eight wood stoves and two fireplaces. In spite of the mountain of work facing us and experiencing one of the most dispiriting summers in terms of weather on record, Steve and Lynne have brought energy, humour and curiosity to the work not to mention the good will and cooperative spirit they give to the place. Without wwoofers like them Yewfield would not be what it is today.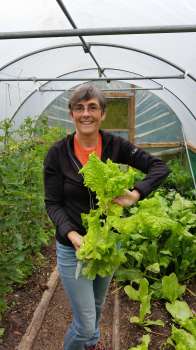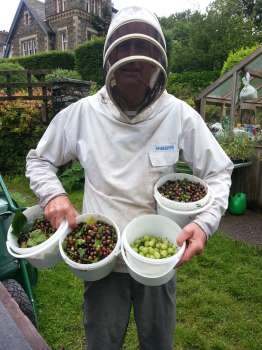 Go back to all blog posts or read the next entry in our blog here →
You can also read the previous blog post here.