As the leaves continue to fall and the bare branches of deciduous trees turn the woods and copses in the landscape a soft brown colour, evergreens come to the fore. Holly, juniper, Scots pine and yew are the only four native evergreen trees and shrubs in Britain and fortunately the Yewfield garden is well stocked with them, especially holly and yew. Yewfield has five mature yews in the front garden giving the large imposing house a mature, dignified appearance. It is difficult to know their age but we do know that the place was called Yewfield Castle in the mid-18th century.
Yew is the most long lived of our native trees with some specimens well over 1000 years old although after about 800 years it is difficult to age them as their centre rots out. Churchyards throughout the land are peppered with old yews, including Hawkshead Church where Wordsworth must have marvelled at them when attending school at Hawkshead Grammar adjacent to the churchyard. Yews have always had spiritual significance even in pre-Christian times. Many churches simply appropriated these pagan worship sites easily identified by their resident mature yew trees. In the Middle Ages yew branches were used as longbows giving archers an advantage over previous war tools. It is said that the Battle of Agincourt in the 15th century was won chiefly because of the longbow. There is a myth that to destroy a yew will bring an eternity of pain. They are indeed, symbols of immortality.
As all parts of the yew are poisonous except the flesh of the berry, churchyards had to be fenced against stock. We have noticed however that yew is a target plant for deer browsing and we have to fence off our yew hedges in winter as deer congregate in gardens looking for something to eat. Although the active ingredient, taxol, is now synthesised, it was recognised as a powerful anti cancer drug. In the 1990s I used to send off our yew clippings to a laboratory so the taxol could be extracted. It is this that the deer, unlike other animals, are able to digest. Could it be functioning as a wormer or do they somehow sense its anti cancer properties?

Of course yew hedges are the backbone of the late Victorian\Arts and Crafts garden acting as the perfect foil to herbaceous plants or as topiary. William Morris, one of the founders of the Arts and Crafts Movement, cut his yew hedges into the shape of a dragon at Kelmscott, Gloucestershire echoing his admiration for motifs from the Middle Ages. Other than a few cone shapes popping out of our conservatively linear yew hedges we haven't indulged in topiary at Yewfield - yet.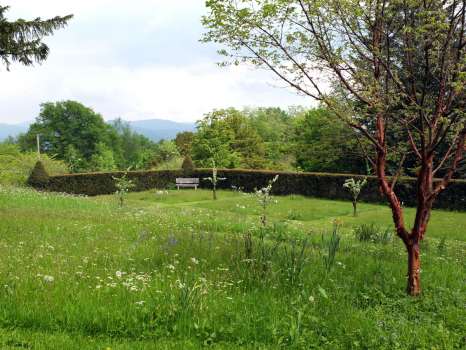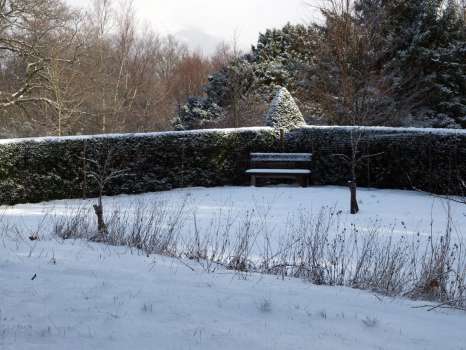 Go back to all blog posts or read the next entry in our blog here →
You can also read the previous blog post here.