That phrase sounds like a contradiction in terms. The Lake District's landscape has been shaped by centuries of sheep and cattle farming. It is still the dominant form of land management here. Grass is what we grow best or so we are told. So is it possible to look after the land and contribute positively to it's landscape without having to raise sheep and cattle for meat? That was the question we posed when we arrived in 1993 and set up the vegetarian B and B.

Back then Yewfield came with 25 acres of rough grazing land. A local farmer ran sheep on it but from the start we could see that the land was botanically rich with a surprising variety of habitats. It's genius loci or 'spirit of place' was it's conservation value. Managing land for conservation is increasingly recognised as a valid form of land management but does it qualify as a 'working landscape'? That is the term trotted out by both farmers and the tourist industry to describe the unique quality of the Lake District landscape.
We asked the farmer to take his sheep off but were left with the dilemma of how to graze the land to keep it from being swamped by bracken and scrub yet maintain its floral diversity. We wanted it also to be a 'working landscape' but benefiting both nature and us. Our solution was to use native ponies to graze the herb rich pastures. Some of these are cut for hay each summer and fed to the ponies in winter, their manure collected, composted and added to our veg and flower gardens. Our bees benefit from the floral diversity in our meadows and gardens providing us with honey for the B and B breakfast table. Along with their function as grazers, the ponies are also used for riding and pulling out firewood from the forest.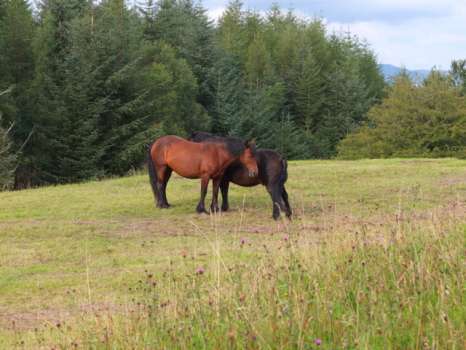 Since 1993 more land has been acquired making our system of land management more sustainable. Seven acres of herb rich meadows were added ten years later and ten years after that fifty acres of adjacent woodland was purchased to both fuel our wood chip boiler and add another habitat conservation opportunity. So the land at Yewfield has maintained itself, somewhat unconventionally, as a working landscape but with a vegetarian ethos.
Go back to all blog posts or read the next entry in our blog here →
You can also read the previous blog post here.