Up here in the Lake District we have been experiencing one Atlantic front after another. Some days are warm, windy and wet others are just cold and wet. The number of dry days can be counted on one hand. We are on the edge of a pulsating jet stream that refuses to leave us alone up here in the northwest. Is it because oceans are warming and there is more moisture in the atmosphere as climate scientists are telling us or is it just natural variation? With the climate talks in Paris starting today extremes of weather are taking on new meaning in the public discourse on the UK's favourite topic of conversation.
It has meant that to put the gardens to bed for the winter we have to use boards or work from paths so as not to destroy the delicate soil structure. When it gets too much we retreat into the greenhouse to pot up young plants for our plant table next year. And whatever the weather it is the time of year to be putting firewood under cover for next winter.
As Robert Frost the American poet said the wood cutter is 'heated thrice' if you count bucking up the fallen tree, splitting and stacking the logs and finally being warmed by the wood's radiant heat. We have eight wood stoves and two open fireplaces to feed with dry firewood here in the Yewfield community so an efficient and well planned system is required to supply the ten or more cubic metres of wood at a moisture content of less than 25%. One of life's deeper pleasures is having prepared a well stacked woodpile for the coming year. It is what Lars Mytting would call 'practical aesthetics'. A self confessed firewood nerd, he has written a gorgeous book called Norwegian Wood extolling firewood's aesthetic and utilitarian pleasures from a Scandinavian perspective. It is the ideal Christmas gift for you firewood nerds out there.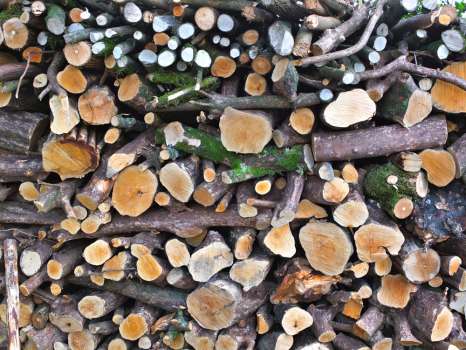 Go back to all blog posts or read the next entry in our blog here →
You can also read the previous blog post here.