As we near the end of the B and B season here at Yewfield we enter the beginning of the gardening year. It may sound strange to enter the gardening year in November but planning for the next growing season has already begun. Garlic has been planted in the upper terrace garden, scillas and daffodils in the patio borders, tulips in pots to be planted out in spring safely stored in the freshly scrubbed and tidied greenhouse not to mention veg seed and bare root tree saplings still to order. We've been cutting back the patio perennials using Susie White's method of chopping them into small pieces and leaving them in situ rather than hauling them away to the compost heap. The bones of the patio - the box cones, yew hedges, whispy ornamental grasses, hellebores and bergenias stand out over the winter as the eye is drawn across them to the snow covered fells in the distance.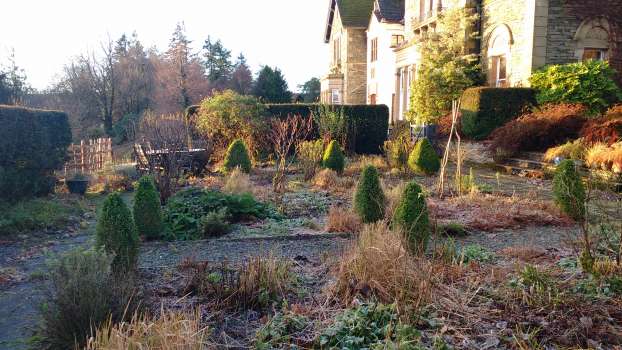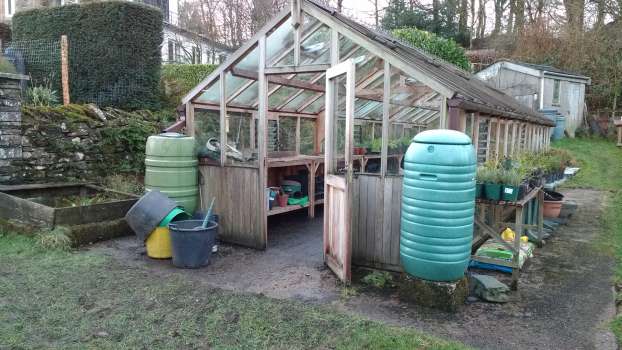 In spite of the fact that it has been mild with lots for them to eat in the woods, our three resident roe deer have been forcing their way through the yew hedges into the patio and upper gardens. As winter approaches, it has been necessary through the winter season to install deer netting to keep them out. As mentioned in past posts deer have the ability to consume poisonous plants such as yew with impunity not to mention everything else. If not fenced our hedges would look like lollipops.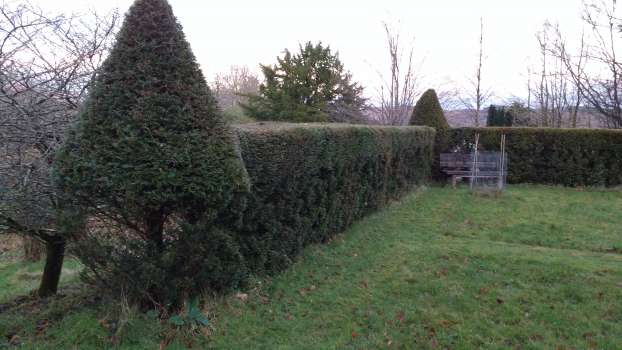 With the grass still growing the ponies have continued to put on weight so no hay for them for a while. They have the whole of our pasture to wander about (approximately 25 acres) as I believe it is healthy for them to have access to as wide a variety of plants to choose from and there is less poaching of the land. We have opened up the field south of the barn to grazing as our experiments thwacking back the bracken over the summer have given the underlying grass more light and a new lease of life. The ponies are loving it.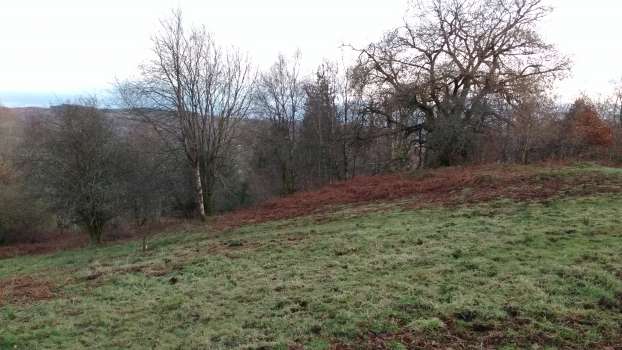 Our bees are in semi-hibernation. I say 'semi' because in warm weather they are out buzzing around but of course there is precious little for them to feed on. There is still some ivy in flower but it will be three months before they can forage properly again. From four hives we only took 50 lbs of honey off this year leaving the rest for the bees to sustain themselves through the winter. Look for it on the B and B table on your next visit. Our honey is a breed apart from store bought honey, having a fragrance and subtlety that is unique to the flowers of this place. There have been some new studies coming out on the dangers of neonicitiniod pesticides and their effects on bees. Currently three of them are banned commercially in the EU but it will be interesting to see what the UK government will do after Brexit. Strangely one of these banned pesticides - imadocloprid - is still allowed to be sold in garden centres so next time you purchase a bug killer take care as you could be unwittingly poisoning not only bees but butterflies and other insects as well.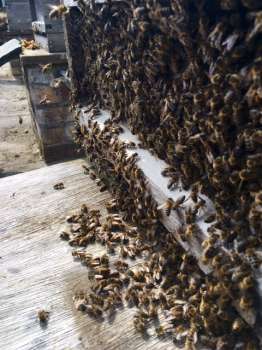 After attending a bat evening organised by a local conservation group we have purchased a bat detector and identification sheet. We often see bats around Yewfield and we know there are pipistrelle bats roosting in the tower. One other important roosting place for bats is in old trees. I shall be on the look out next spring and summer for bats in our wood as we have some splendid veteran trees in there.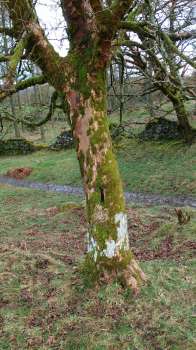 Go back to all blog posts or read the next entry in our blog here →
You can also read the previous blog post here.