The hot weather we are having is a real treat. It is a treat because it is so rare up here in the Lake District that one can walk out in the evening with a glass of wine wearing just a T shirt and shorts and sit in the garden with comfort at twilight in an all-embracing warmth. All the while listening to swifts scream by and thrushes sing from nearby tree tops. Yes, the swifts stayed and bred in two places high up on the house facade. Our worries in May and June were false alarms. We have seen seven careening around in the last few days. Once the young have fledged, if they haven't already, they will be off any day now. We wish them luck on their long journey back to Africa for the winter.
It is the season of the three H's - hay, honey and hedges. In spite of the recent hot spell we have been having frequent heavy showers so finding four warm, mostly sunny days to make hay has been a challenge. This year, unlike last summer, we are cutting small ares of meadow at a time so that we know we can rack it up or get it under cover at short notice if a shower threatens. We are constantly checking the weather forecast, hoping for a barometer reading of over 1015 which is usually an indicator of high pressure and a dry couple of days. Hay has to be super dry before baling or it risks going mouldy over winter.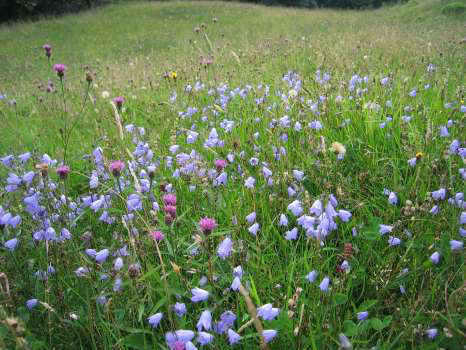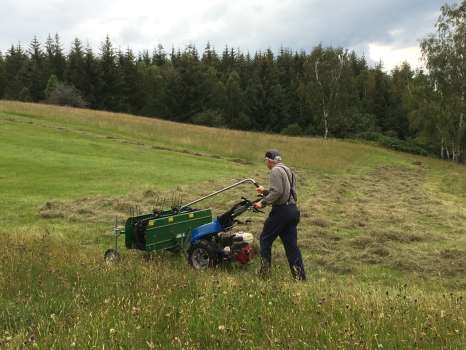 We took off a box of honey from each hive last week, leaving between two and three boxes full of honey for them to feed on over the winter. Last winter I left two boxes on and it wasn't enough. Warm winters are the culprit. The bees are out flying and using up their stored honey but there is nothing for them to replenish it in mid-winter. Now the lime blossom and bramble is just going over but they still have rosebay willow herb, late garden flowers such as monarda, rudbeckia and asters to feed from, not to mention ivy - that all important late nectar and pollen bonanza for bees.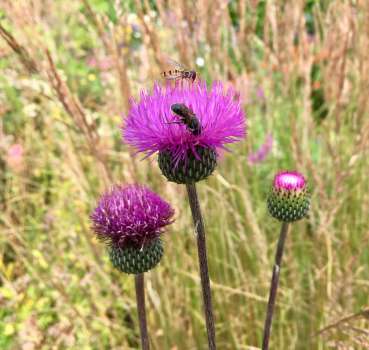 It is also hedge cutting time when order is brought back to the garden after the summer splurge of growth. The Arts and Crafts Movement, which still has a strong influence on garden design in this country, believed that the combination of order in geometric lines and tightly trimmed hedges contrasting with flowery exuberance in the borders gave gardens a sense of harmony. In spite of the work involved in hedge cutting it is a satisfying feeling when completed. We wait til the end of July to start cutting yew, beech and laurel hedges as we will only need to cut them once a year and they will hold their tight shape giving structure and interest to the garden in the winter months.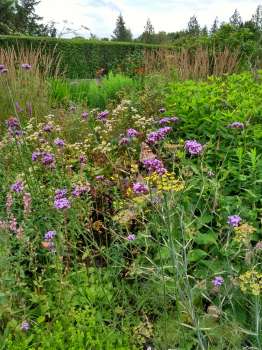 Our plant profile this month is Scottish flame flower or Tropeolum speciosum. It festoons our yew hedges in mid to late summer with brilliant red flowers followed by purplish blue seed pods. It loves the protected, dry, well drained soil under the yew hedge. It is a delicate operation pruning the yew hedges at this time of year but we somehow are able to clip around the lace like tendrils of the climber so it can continue to set seed and flourish the following year.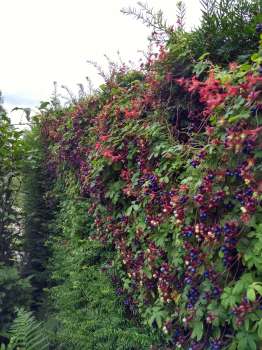 Recent rains and warm weather have brought out slugs, our nemesis, in abundance. In the May post I mentioned we were battling with the red form of the large black slug Arion ater but I was mistaken - or at least partly mistaken. It is instead the so called Spanish slug - Arion vulgaris. Recent research has shown that this slug is not controlled by any of the usual control methods other than collecting them at night. It produces copious amounts of mucus thus slithering about even in dry spells and can wipe out quite large transplants in an evening. These critters have just become a major pest in the last five to ten years here at Yewfield. They came over originally from the Iberian countries in boxes of vegetables spreading throughout the UK and have been cross breeding with our natives especially Arion ater. They eat not only living and decaying plant tissue but will scavenge on dead slugs and eat other live molluscs. They will be producing dozens and dozens of eggs about now and throughout August to hatch next year so these warm wet summer evenings are a good time to get out and pick them up. Our chickens, unfortunately, have no interest in them whatsoever.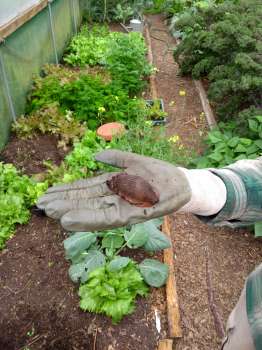 Go back to all blog posts or read the next entry in our blog here →
You can also read the previous blog post here.