We've started to make hay. We need approximately 120 bales to get our two native ponies through the winter, from December to April. The herb-rich hay that we make here (see banner above), we believe, keeps our ponies healthy and it is only by feeding them what we make ourselves that we can be sure to keep out seeds of invasive plants such as perennial rye grass.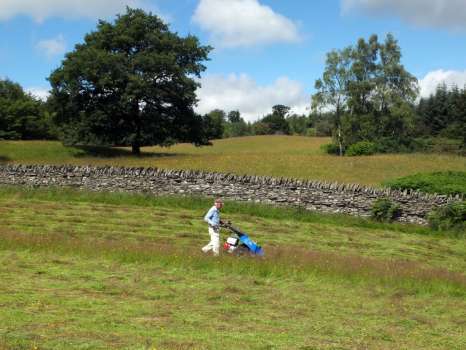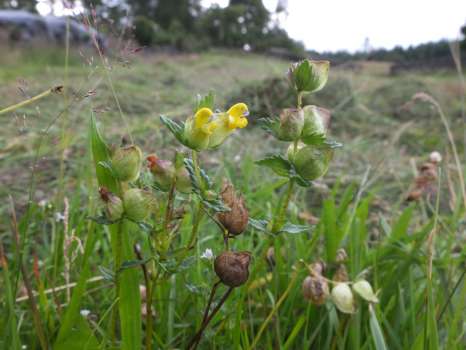 This year we are carrying out every stage of the haymaking operation ourselves. Last year the contractor's scaler broke down half-way through rowing up the hay and then another farmer's baler went out of action before he could get to us. The anxiety of depending on others proved so great that we decided to get our own kit. Our meadows are too big to scythe by hand so we have invested in a Ferrari. Yes, the best small-scale haymaking equipment one can buy here in the UK is made in Italy by Ferrari. It is called BCS, imported by
Tracmaster UK
, and we have invested in a two-wheel tractor, with a cutter bar or power scythe and a hay rake or 'tedder' attachment. Now we can cut, ted (turn), and scale (row up) the hay when we have a couple of days of dry weather, stack it on racks if it showers or take it into the barn and wait till it dries up outside before spreading the hay out on tarps and drying it properly before baling.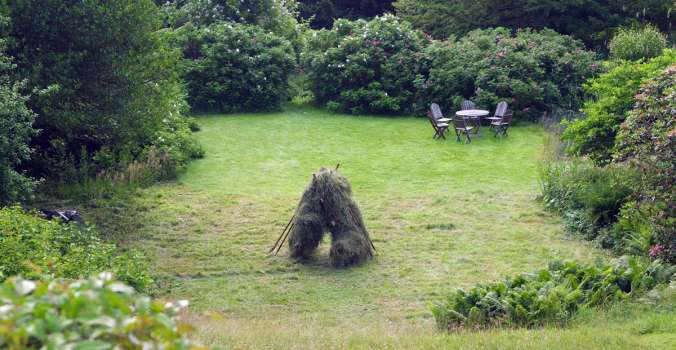 Being in control of the whole operation allows us to make hay 'progressively' as Simon Fairlie the UK's small-scale haymaking guru describes it. When the weather looks favourable i.e. the barometer is over 1015 millibars and forecasting two dry days then we can do a bit at a time. Up here in the Lakes the last two summers have only allowed a few dry days at a time before it turns wet so this system will suit us. The nerve-racking business of booking in contractors when the weather is so changeable is also a thing of the past with this new equipment. Generations of crofters have made hay like this so it is nothing new but these old skills are disappearing.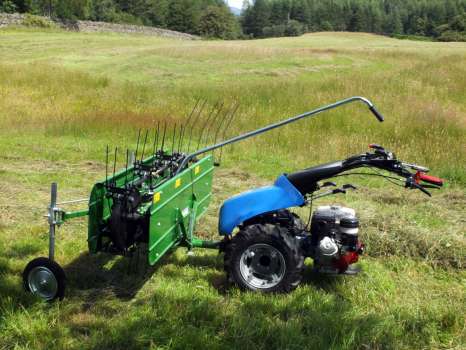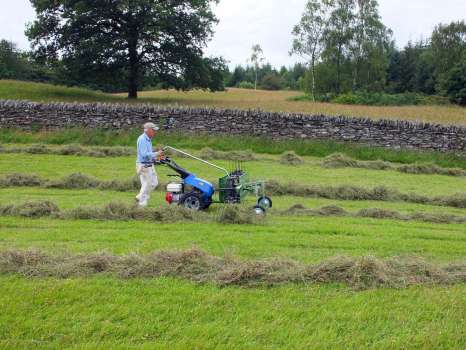 Why do we bother? Why not just buy in hay? Reasonable questions put to us last year by a neighbouring farmer. To keep our meadows as biodiverse as they are (I was dodging orchids and small pearl bordered fritillary butterflies as I was cutting this morning), we need to take a hay crop off because this maintains the balance between herbs and grasses. Many farmers are focussed on increasing the fertility of grassland (at the expense of wildflowers) but we want mostly infertile meadows full of herbs and flowers. Herb-rich meadows are also good for our diminishing pollinator insects, good for our ponies and good exercise for us. We take pleasure in practising a cultural ritual on marginal farms that goes back centuries. And, of course, it comes down to a feeling for the land, of sharing it with other species. As Margaret said in E.M. Forster's Howard's End, "It all turns on affection".
Go back to all blog posts or read the next entry in our blog here →
You can also read the previous blog post here.