We have a new member of the Yewfield family. On a flower reconnaissance up in one of our meadows called Raise How, spelled on the 1880 map as Wrays How, which I prefer, as there is probably a more interesting story behind that name, is a raptor box we set up 5 years ago. This is the first year it has been occupied and by none other than a barn owl. We have never seen a barn owl up at this elevation as they tend to stick to valley fields and meadows. Further inspection is necessary to see if there is brood. Now that would be treat. The owl box overlooks a wet sedge meadow which should be good hunting ground for voles, a barn owl's favourite food. Also we take the ponies off the meadows for the summer so that we can make hay and wild flowers can set seed so there is lots of prime habitat for voles. There does seem to be a vole explosion this year and the little varmints are causing us headaches in the polytunnel where we grow our veg. I shall send a message by owl mail (remember Harry Potter's owl Hedwig?) to our resident owl to do a few polytunnel fly throughs.
Still with bird news, the swifts have left for sunnier climes. It is always a sad time to see them go but go they must. We had two nesting in different parts of the house but, poor things, it has been a dismal summer for them. Not only for them, but for our bees as well. The nectar gathering season looked very promising with the warm dry spell in June. However July and August have been a washout up here. One of our hives had lost their queen and we had a choice of uniting it to another hive or requeening with a bought in queen. I have never done requeening before so I was keen to give it a try. I paid around £40 online for a 'ready to lay' Buckfast queen from the apiaries at Buckfast Abbey in Devon which are reputed to be productive but also mild mannered. She came with a few attendants in a small cage in the post and when we told the post lady that she was carrying a queen she had a right giggle. After a few days introduction in the closed cage so that her pheromones will spread and the other bees will accept her she was set free. So far so good. When I looked in the other day she had settled in nicely with lots of young brood in the cells. One of our other hives has been very productive this year and if you come to stay this summer do buy a jar of honey!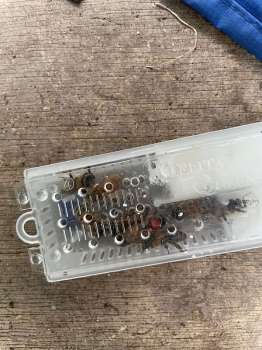 What the unusual weather this summer has done is produced a bumper blackberry harvest. Brambles have spread through are young woodlands after larches had to be removed because of larch disease and although being a nuisance to access parts of the newly planted woodland they have been a boon for the bees when they are flowering and birds, especially warblers, for both ground nesting cover and for blackbirds and thrushes for the berries. As most of our woodland is newly planted we thought it would be good to do a baseline survey of flora and a bird count so that we can see the change over time as the trees and shrubs grow. Will bramble and bracken dominate and shade out other plants from growing? Will we need to control them in our woods as we do in our meadows? These are questions a baseline survey can address. We have been recording flora in 5m square plots on a fixed transect and marked these on a map with coordinates although a cleverer person would be using GPS these days.
We have been happy with tree and shrub sapling growth this year although at the end of the June drought we were worried we had lost many. Most, however, seem to have rallied in July and have since put on a lot of growth. The other plant that has put on a lot of growth is bracken. We roll or bash it every year along the edges of the meadows and around young trees but this year it has grown as if on steroids. And of course along with bracken come ticks. In future we may have to bash it more than once or it will take over as it has done on most of the fells of the Lake District. Having 'structural heterogenity' as Isabella Tree describes it in her new book 'Wilding' is a necessary thing for species diversity within habitats. It is certainly preferable to a monoculture of bracken or for that matter bramble taking over our fields and woodlands. Here in the Lakes 'wilding' requires some interference if one is aiming for biodiversity.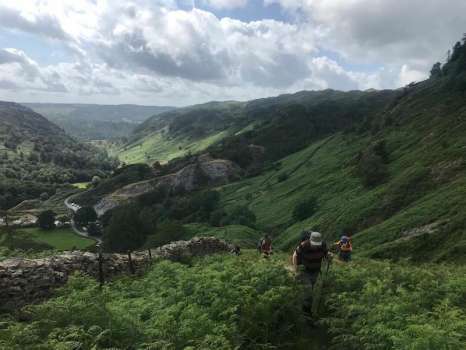 Breaking news! We have just had a window of four days of dryish weather so we cut, dried and baled our flower rich meadow hay for the winter. We borrowed another hand baler from a neighbour and managed to make 139 bales on Thursday just before the rain set in. What a relief!
Go back to all blog posts or read the next entry in our blog here →