Gary and I left the garden in the capable hands of our Kiwi wwoofing family Brodie - Steve, Lynne and Ben - for a week in August and went hiking in Switzerland, while they kept up with all the numerous summer tasks: taking care of the chickens, the polytunnel, greenhouse and compost heaps; waging war on slugs; pruning our hedges, picking and eating produce (hard to keep up with this), extracting honey and generally giving us peace of mind as we enjoyed our holiday. As for the pruning of the yew hedges above the wall border, Gary's instructions obviously rung clearly in Steve's ears: "If in doubt, cut it." Here is an excerpt from Lynne's journal. "Cleared the ivy out of the yew hedge and tried to find the wall below - lost Ben in the undergrowth. Steve started on the mass destruction. Gary - never go away and leave Steve with access to power tools! The Great Wall of Yewfield has been uncovered and Gary and Christina will be delighted or devastated - hopefully the first." We can report that clearing the vegetation from that wall was a task long overdue. We just need to try and uncover the wall on the other side now and perhaps we'll find Ben in the process.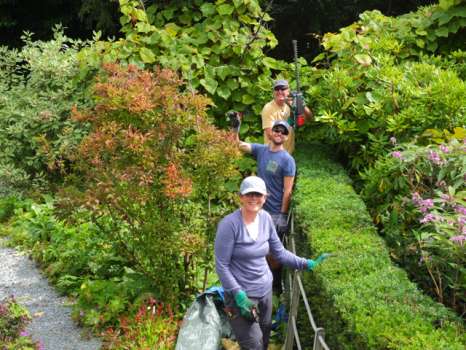 Before we left there was the small matter of baling the hay we'd all brought in from the meadows, a whole barnful of it. Working from a model of a friend's hand baler Steve and Gary constructed our own one and produced the first bale to a great fanfare. We managed a total of just over 120 bales, which – gods willing – will see the ponies through the winter.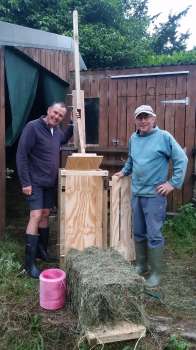 Haying was in the air in Switzerland too. Gary came upon a two-wheel tractor similar to our own, but designed for the steep slopes of the Alps. The wheels had spiked attachments to help the machine grip the ground, and if you look carefully at the picture you can see a pair of crampons hanging from the handle bars for the farmer to wear as he manoeuvres his tractor across the slopes. I think we'll stick happily to our gently-sloped hay meadows!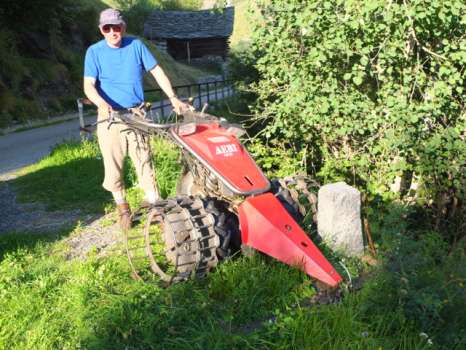 Go back to all blog posts or read the next entry in our blog here →
You can also read the previous blog post here.