In the garden we try to incorporate wild flowers along with more conventional perennials and shrubs to make it attractive to our bees and other pollinating insects. This year has been a good year for our bees and it seems for bumble bees as well as the garden hums with the sound of them. After the early flowering perennials such as geraniums, daisies, valerian, thalictrum and lady's mantle have flowered comes the big summer cut back so that we and the bees can enjoy a repeat flowering in August and September. In the hay meadows we shall be taking the hay off when the next dry spell comes along, hopefully next week. The herb rich hay feeds our ponies through the winter and, of course, their dung goes in to the compost heaps and back to the garden.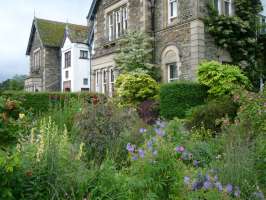 Go back to all blog posts or read the next entry in our blog here →
You can also read the previous blog post here.