We are benefiting from 'Borrowed Days' - a Gaelic term describing unusually cold or warm days around the turn of a season. Three weeks ago warm, sunny weather gave us a fortaste of spring. The recent wintry weather - tonight it is going down to below zero - is welcome, giving us more time to catch up on finishing winter jobs. One of these is tree planting.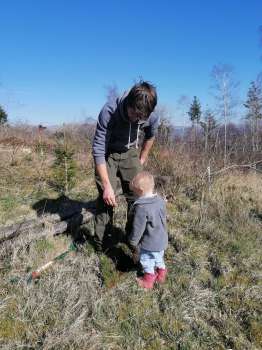 As mentioned in the previous blog, we planted around 500 trees this winter. We did some 'beating up' i.e. a forester's term for replacing last year's planting that didn't make it for some reason and we added different species to the existing woodland mix of species. We are leaving open areas for natural regeneration and throughout we are seeing birch, rowan and oak emerging. In fact some of the regenerated birch are now taller than improved selections of birch that we planted four years ago. Sawrey Ground Plantation, our woodland, is gradually being rewilded.
Rewilding gardens and landscapes is a term that is catching on and not just with ecologically minded garden designers and foresters. At this year's Chelsea Flower Show on the main avenue, the show piece of conventional and cutting edge garden design, there will be 'A Rewilding Britain Landscape' garden with a particular inspiration from a recently introduced long lost native: the beaver. 'Wilding' - probably a more accurate term for what we are doing - has been an inspiration in Yewfield's gardens from when we arrived 29 years ago and continues today with renewed purpose given the climate and biodiversity crisis we face. We don't have room to introduce beavers but they have been introduced in the Lowther Estate in north Cumbria and if their reintroduction continues to be successful the hope is that these 'ecosystem engineers' will be introduced more widely in the Lakes.
In 2016 Sawrey Ground Plantation won the top award for the Royal Forestry Society North Region Farm and Small Woodland category. Last year the RFS have taken the top two winners from the last five years and held a competition called the Best of the Best. We have made it on to the short list with a judges visit due in the next few weeks. Our forest has fundamentally changed from 2016 because of larch disease and this winter's catastrophic storms. In spite of our planting 7000 trees in the larch felled areas, what will the judges make of it? We'll let you know in the next blog.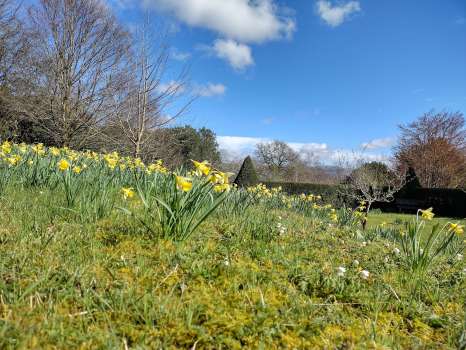 The plant of the month has to be Wordsworth's daffodil Narcissus pseudonarcissus. We have planted hundreds around the garden and they are seeding happily and spreading. A modest example of 'wilding' in the garden. These chilly 'Borrowed Days' are perfect for extending the flowering season for daffodills - a welcome and cheerful site for tourists pouring into the Lakes for the Easter break.
Go back to all blog posts or read the next entry in our blog here →
You can also read the previous blog post here.