The holly and the ivy,
When they are both full grown,
Of all the trees that are in the wood,
The holly bears the crown.
When we were gathering ivy for Christmas wreaths, I went along the drive to the Dawn Redwood Metasequoia glybtostroboides. It has a lot of native ivy growing up the trunk and into its crown. We didn't take it seriously for a number of years. but after some high winds recently we have become concerned. Ivy is important for wildlife as it gives small birds nesting cover in early spring, the berries are a good winter food source for birds and it is an important nectar source for bees in late summer and autumn when there are few flowering plants. But this is one of the oldest Dawn Redwoods in the county. It was given to the owners of Yewfield in the 1950's by Bill Grant, the director of Forest Enterprise at Grizedale at the time. He had received some of the first seedlings that were obtained by the Forestry Commission after it first arrived in the UK from China in 1947. Unfortunately this lovely tree is in an exposed position to the prevailing winds and is starting to lean. So in spite of our predisposition to garden with wildlife we have decided to take out the ivy in the tree as it is adding a lot of weight and mass to the crown increasing the tree's instability in high winds. We don't want to lose the tree and long with it a bit of Yewfield's history. Sorry birds and bees. We will try and provide other habitat for you. Another conservation dilemma…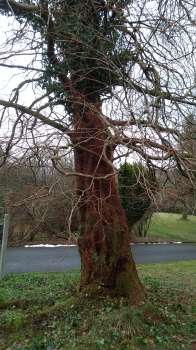 We have started to feed our ponies the hay we cut and baled from our wildflower rich meadows in July and August. They are loving it. Now that they are coming by the barn every morning for their hay it gives us easy pickings to collect their droppings. Their manure is the basis of our composting system. The ponies are our 'ecological engineers' ie our primary grazers, maintaining our wood pasture and hay meadows.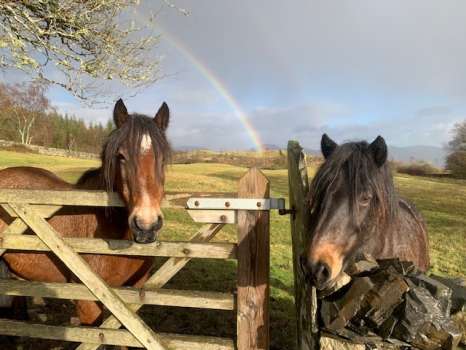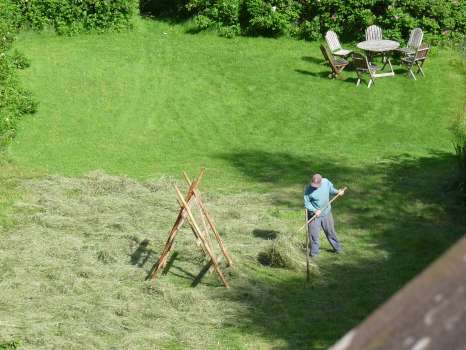 A seminal paper byNatural England (NE) on grazing regimes in the Lake District last year concluded that subsidy regimes led to overgrazing in the national park and a consequent reduction in biodiversity. Low stocking rates are central not only to maintaining biodiversity but also reducing soil erosion, helping with flood control and carbon storage. NE found that habitats begin to recover when the grazing pressure is below 0.4 ewes per hectare. Over a year our two ponies on the land work out as broadly equivalent to this figure. Outside of our hay meadows we are trying to create more of a wood pasture habitat which is better for birds and pollinators by keeping the grazing pressure low. We have noticed an increase of scrub and tree regeneration.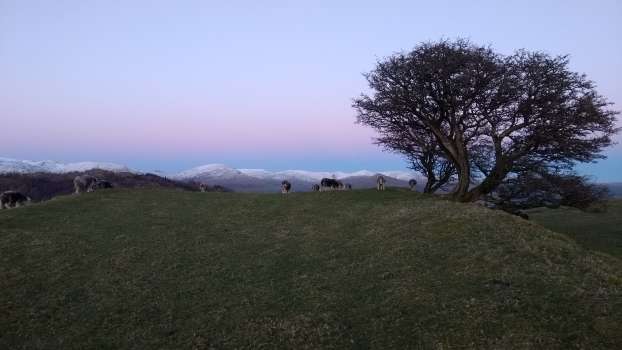 I have been reading James Rebank's latest book 'English Pastoral'. Rebank lives on a hill farm on the northeastern edge of the Lake District. After his well known first book 'A Shepherd's Life' he is changing his tune in 'English Pastoral'. He has become skeptical about modern agricultural methods and is suggesting we go back to the more complex mixed farming of his grandfather's time along with putting more land into trees, wood pasture, wildflower meadows and wetlands. He is redefining the modern hill farmer from not only food producer but also nature enhancer.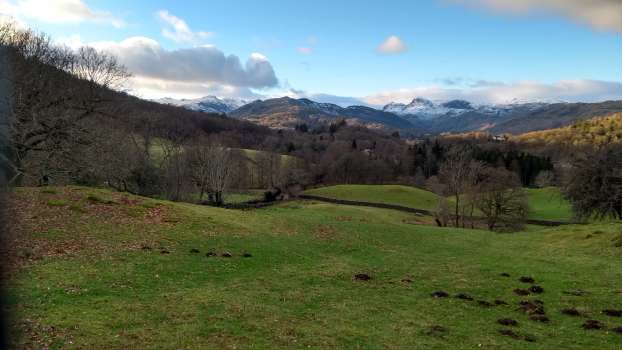 In the garden we finished planting bulbs in December and partially completed our winter tidy along with mulching any bare soil with our home made compost. Home made compost is the basis of an organic garden and we are lucky to have plenty of kitchen waste, bracken, horse and chicken manure to make it with. We have friends who make biochar which we also add to our compost heaps. We like to compost the flower gardens in both the autumn and the spring and we add compost to our vegetable garden every time we remove a crop. As well as feeding both soil and plants, compost heaps are an important habitat in themselves hosting a myriad of invertebrates.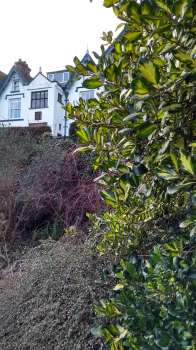 Our plant of the month has to be holly -the holly bears the crown. We have different forms of the native holly around the garden including the variegated variety 'Golden King'.
Go back to all blog posts or read the next entry in our blog here →
You can also read the previous blog post here.