As October roared in on the back of the first autumnal gales, we waved goodbye to any remnant fantasies about an Indian summer. Gone too - and it was some relief - was that wearying cycle of hope and despair that marked September, as low pressure after low pressure moved in over the Atlantic and rain fell from heavy skies almost every day. The hope had been for a few of those magical September days of lingering light and warmth when gardeners can put their feet up with a cuppa and soak in the sunshine as all manner of flies, bees and butterflies fizz and flutter around them. Those days never came: by the end of September the fields were sodden, leaf vegetables and flower petals were ragged with slug damage, and our little tarn swollen with the rains.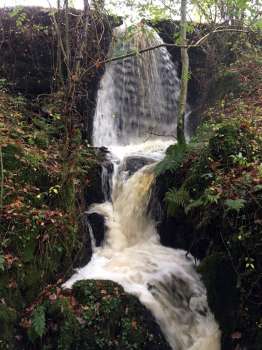 However the early October gales have blown away the perpetual greyness and it is now time to turn our faces to the new season and prepare for winter as nature is doing at full throttle with leaves tearing helter skelter through the air. A family of deer is already firmly resident in the garden and the netting will have to go up round the yew hedges as soon as possible. We saw a fox the other day down by the greenhouse, its thick russet brush floating out of sight behind vegetation not too far from the chicken coop. Pointers to harder times to come.
In the precious few hours of warmth and sunshine in September insects did miraculously appear as if they'd been buzzing about in a parallel universe, In truth they'd been sheltering under leaves or deep down in long grass, biding time till the weather let them fly and feed. It has however been a bad year for butterflies as revealed by the Big Butterfly Count which took place country-wide between 14th July and 6th August. A worrying average of only eleven species were seen by each participant, the lowest number since 2010. The better news is that a record 60,000 people took part and there were a few successes - for example red admiral numbers were up 75% on last year. According to the survey large whites and small whites were down but you would not know it from the hoards of caterpillars on our brassicas - red Russian kale is a choicefavourite (as it is for us!).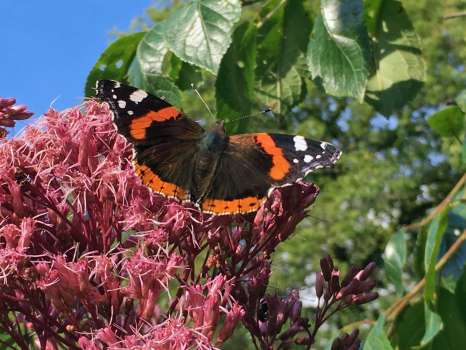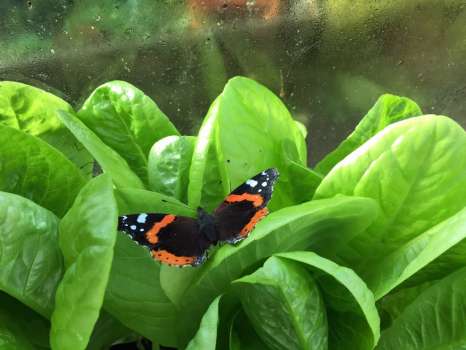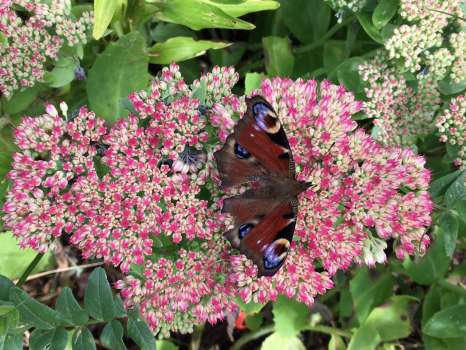 As we embrace the change of seasons it is well to remember how beneficial it is to be in touch with the turnings of the year. Just as we have daily rhythms dependent on light so we all have seasonal rhythms. Contact with nature, and gardening in particular, keeps us close to these rhythms. Difficult as the darker days of autumn and winter are for many of us (and this gloomy September did invite depressive moods) it is always going to be better for our physical and mental health to get outside, go for a walk, plant some bulbs, get dirt under our fingernails, muck about with family and friends in an allotment or community garden, pick vegetables and fruit that the spring and summer have grown to maturity, and cook and eat together to celebrate the harvest.
Go back to all blog posts or read the next entry in our blog here →
You can also read the previous blog post here.