The Woodland Trust have kindly given us 150 trees to plant up in our 20 hectare woodland. We have planted 50 mixed native trees already in December and we should receive the rest tomorrow. I've asked for 50 cherry and 50 alder which we will plant in a three-hectare enclosure that is being felled at the moment because of larch disease. The trees to be felled are 25 years old and looking pretty good but a few have shown symptoms of Phytophthera ramorum, the fungus like disease that has devastated larches throughout the Lake District over the last two years. Two hundred years ago William Wordsworth would have approved as he called the larch "…this spiky tree growing into nothing but deformity." It has been a huge transformation in our local landscape but we are excited with our new, mostly native and deciduous planting and it won't take long before a very different landscape will surround Yewfield. I think Wordsworth would approve.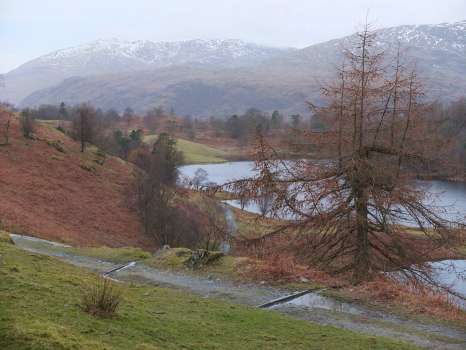 We were given a Statutory Plant Health Notice (SPHN) for our three-hectare enclosure by the Forestry Commission when they did their flyover last autumn. This means we have to cut the larches down to prevent the spread of the disease to other tree and shrub species. This will be the last SPHN we will get as virtually all of our larches are gone now. In previous blogs we have gone into detail about the replanting of our woodland. Seven thousand, mostly native trees and shrubs have been put in over the last three years. This will be our last planting in the woodland other than "beating up" i.e. replacing trees and shrubs that have died. Along with planting the cherry and alder we will leave a proportion of the felled area unplanted, hoping that it will naturally regenerate with birch, beech, rowan, willow and oak which are growing nearby. To get a sense of structural and biodiversity change in our woods we will need to get serious about surveying. I will say more about that in our next blog.
I chose cherry for its blossom and because it appears to be a tree that is immune to the predations of grey squirrels, Unless controlled grey squirrels can be a major problem for young native broadleaves. Thank goodness a new control method using fertility control is being trialled by the UK Squirrel Accord at the moment and it is looking promising. Fingers crossed it works as grey squirrels can be a real menace in young woodlands stripping the bark of trees, and unless a solution can be found the UK will have difficulty meeting its carbon sequestering targets from tree planting or producing marketable timber in the future.
Speaking of carbon sequestering I have attended a number of webinars on carbon credits, biodiversity in woodlands and agroforestry. It is heartening to know that more and more land managers are thinking outside the box when it comes to land. Having access to Zoom has definitely helped as many farming, conservation and forestry organisations are getting their message out that way during the pandemic. One aspect that I hope will gain interest among farmers in the Lake District is carbon credits. It may seem to be an anathema to an upland hill farmer to put some of his/her grazing land into woodland but with the price of carbon rising by the month a farmer will be able to make more money selling carbon credits to private industry or the Forestry Commission by creating new woodland on a piece of land than he can from livestock farming. Planting small groups of native trees and shrubs creating a wood pasture effect in the landscape is one way that might be more acceptable to hill farmers than larger scale woodland planting. It will take time for this notion to be accepted among traditional hill farmers but I sense change in the Lake District landscape is coming. It's about time.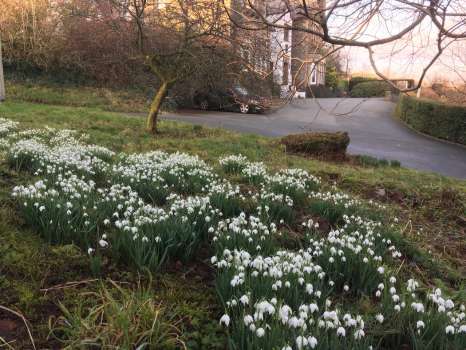 The plant of the month has to be the snowdrop. Peeking through the snow this brave little plant gives us all much cheer at this time of year.

Go back to all blog posts or read the next entry in our blog here →
You can also read the previous blog post here.